The Haruna was the last battleship of the Japanese Imperial Navy afloat. Unable to leave harbor off the Etiajima Bight near Hiroshima and Kure, Japan, the Battleship Haruna, shown above in a 1934 photograph colorized by Irootoko, Jr, was a symbolic target of the U.S. Navy and U.S. Army Air Corps at the close of World War II, in July, 1945. It was a Kongo class fast battleship, or battlecruiser, The Haruna record of movement describes its action since its launch in December, 1913. The last months afloat are summarized below (ref: combinedfleet.com)
1 January 1945:
At Kure. BatDiv 3 is deactivated. HARUNA is reassigned to the reactivated BatDiv 1, Second Fleet. During 1945, HARUNA's battle damage is mostly repaired and she is camouflaged gray with very pale gray stripes on her turrets.
10 February 1945:
BatDiv 1 is deactivated once again. HARUNA is assigned to the Kure Naval District.
19 March 1945:
Kure Arsenal. Vice Admiral (later Admiral) Marc A. Mitscher's (former CO of HORNET, CV-8) Task Force 58 carriers USS ESSEX (CV-9), INTREPID (CV-11), HORNET (CV-12), WASP (CV-18), HANCOCK (CV-19), BENNINGTON (CV-20) and BELLEAU WOOD (CVL-24) make the first carrier attack on the Kure Naval Arsenal. More than 240 aircraft attack battleships HARUNA, YAMATO, ISE, HYUGA, carriers RYUHO, KAIYO, AMAGI, KATSURAGI and other ships.
The fleet is defended vigorously, but unsuccessfully, by 54 Kawanishi N1K2-J Shiden-Kai ("George") fighters of Captain (later General and CINC, JSDF)Genda Minoru's (of AKAGI at Pearl Harbor) 343rd NAG based at Matsuyama airfield. The 343rd pilots claim 52 aircraft shot down against 16 losses.
HARUNA, standing at the roadstead in Etajima Bight is attacked by 15 aircraft, but hit only once on the starboard side aft of the bridge which causes light damage.
2 April 1945:
A floating mine explodes alongside HARUNA, killing two sailors.
22 June 1945:
The XXth (Twentieth) Air Force at Tinian launches 162 Boeing B-29 "Superfortress" in mission No. 215 against the Kure Naval Arsenal. The HARUNA is bracketed by near-miss bombs. One bomb hits the quarterdeck and causes light damage.
24 July 1945: The Final Destruction of the Imperial Japanese Navy:
Aircraft from Vice Admiral (later Admiral) John S. "Slew" McCain's (former CO of RANGER, CV-4)Task Force 38 attack Kure. HARUNA is hit by one bomb portside aft which causes light damage. In their last major action, 343rd NAG "George" fighters attack the retiring American carrier planes over the Bungo Suido and claim 19 aircraft shot down against four losses.
23 June 1945:
HARUNA is towed to the roadstead in Etajima Bight.
28 July 1945:
At Kure. From 0800 to 1700, HARUNA is attacked again by USS WASP's (CV-18) Air Group 86, SHANGRI-LA (CV-38) and other aircraft from Task Force 38. She receives many hits and near misses.
At 1248, HARUNA is attacked, but not hit by over 70 USAAF B-24's of the 7th AF's 11th and 494th Bomb Groups and other groups based at Yontan Air Base, Okinawa. A few moments after dropping its bombs, B-24J "Lonesome Lady" is hit by anti-aircraft shell. All but one of the crew bail out successfully. B-24J "Taloa" is also hit by AA and lost. [3][4]
At 1615, HARUNA comes under a final heavy attack, and is holed portside. This causes a list that brings the gash inflicted on 24 July under water. HARUNA takes on tons of water and sinks in shallow water next to a pier at 34-15N, 132-29E. In the two days of attacks, HARUNA receives 13 bomb hits and 10 near misses. 65 officers and men are lost.
20 November 1945:
Removed from Navy List.
1946-1948:
The wreck of HARUNA is raised and broken up.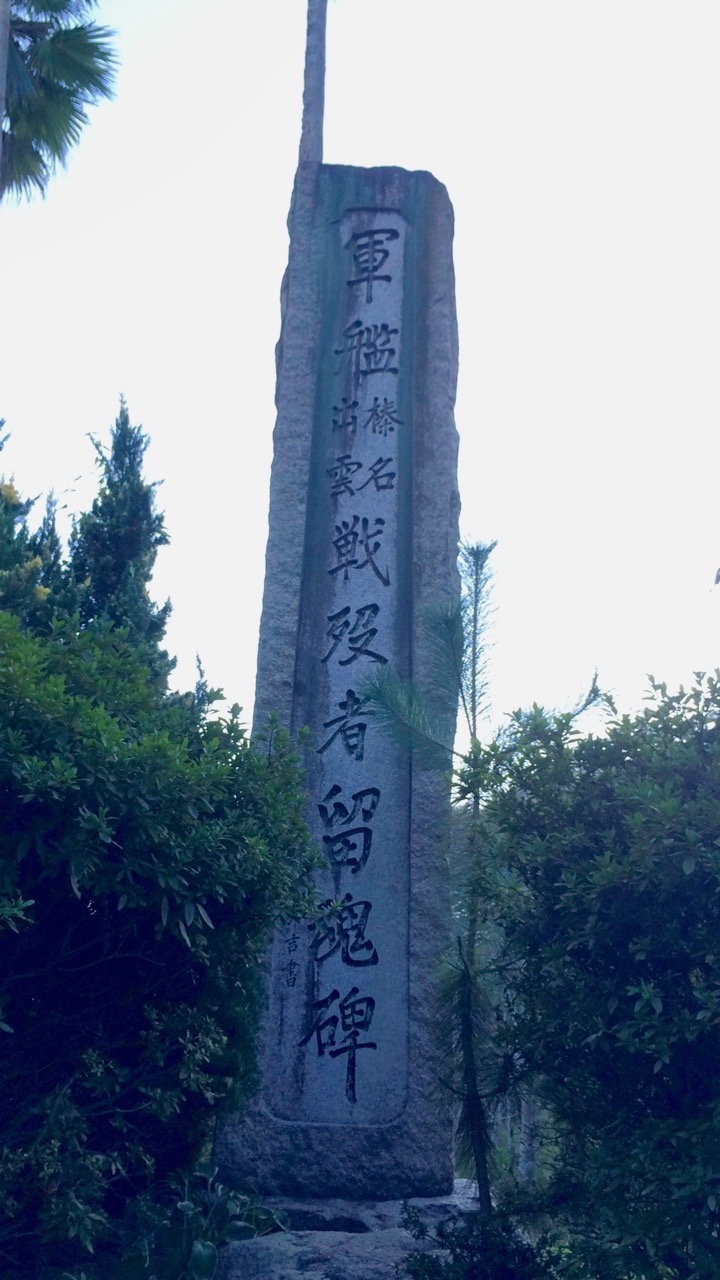 This monument on Etajima honors the ~59 men killed in defense of the last battleships of the Imperial Japanese Navy.